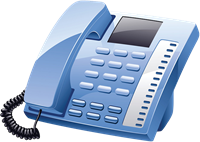 Where Fraud is Always on Call
The term "boiler room" is commonly understood to be a short-term office set-up of multiple computers, telephones and an impressive-sounding address. Boiler rooms earn their name from the "heat" and high-pressure sales tactics generated by callers who try to convince investors to part with their money. The type of investment scam generated from boiler rooms is limited only by the promoter's imagination, and these operations are continually reinventing and refining their bogus investment programs.
Be aware and have a healthy level of cynicism about any investment offer made over the telephone from "out of the blue." Telephone pitches are read from prepared scripts with quick and convincing answers to most common objections. If an offering is very low risk and offers a high return, if you can't lose, or if the investment is sure to "go public" and then double, triple or quadruple, recognize that if that truly was the case, the caller wouldn't have to call in you in the first place.
Read more about how boiler rooms operate.