Checklists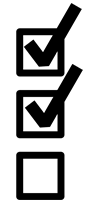 Handing your hard-earned money over to a fraudster or unscrupulous investment professional is, without a doubt, the worst investment anyone could make. Know your legal rights as an investor as well as the questions to ask that may reveal the warning signs of a possible investment scam.
Investor Bill of Rights
Know your rights as an investor before handing over any money.
Red Flags of Fraud
Recognize the warning signs of a potential investment scam with this important checklist.
16 Questions That Can Turn Off a Swindle
Learn the questions to ask and reduce the possibility of falling prey to investment fraud.