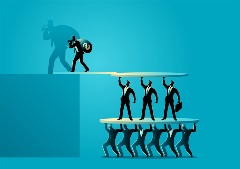 In a Ponzi scheme—named after the infamous con man Charles Ponzi—the promoter pays investors from money received from other investors. The investors are not required to do anything except hand over their money.
In a pyramid scheme, the promoter generally ignores the marketing and selling of the features and benefits of the company's product or service, and merely promises commissions just for recruiting new members.
Both Ponzi and Pyramid schemes are designed to benefit the promoter and a handful people, including the initial investors who then become unwitting promoters of the scheme as they show off the actual monies they have received for their monetary participation. But the house of cards eventually collapses as the promoter needs increasing numbers of new investors to sustain the promised returns.
Don't be fooled by this type of scam even if your friends and family are convinced it is legitimate by understanding the anatomy of a Ponzi-Pyramid scheme. View more about the largest Ponzi-like crime of the century, which involved Bernie Madoff.